Company-X's website had a host of detailed and useful information that would be beneficial to any customer. A few pages ranked highly, even top, but these pages generated all-but-no revenue. Let's find out why…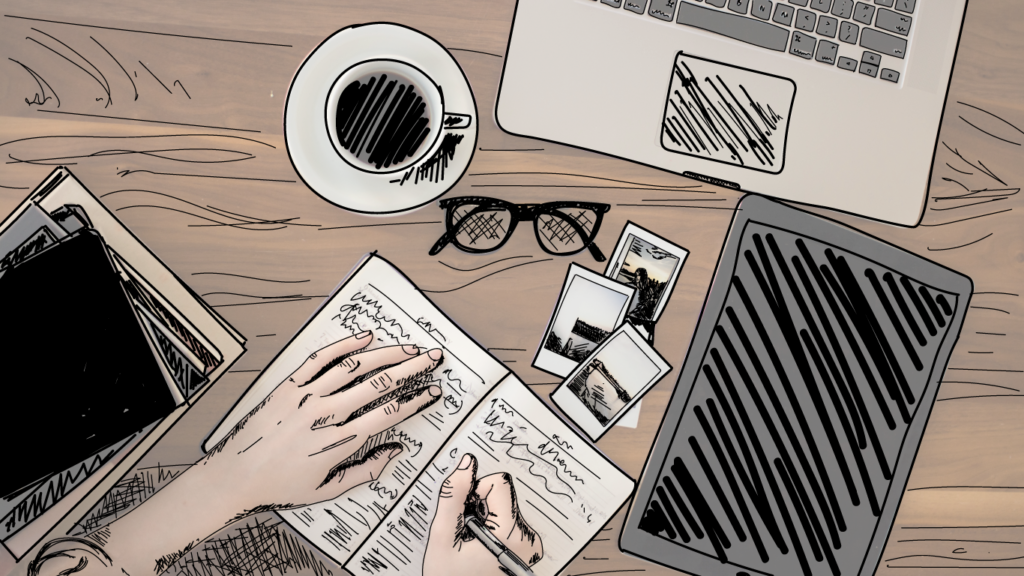 Company-X had some seriously destructive technical issues on their legacy website. There's more detail on these issues, and how they were tackled in this post.
One consequence of their technical website issues was the division of informational content across the site, without any logical structure to link it together.
Useful informational content was divided between a blog that mostly contained promotional messages and standalone buying guide pages on a range of topics. 86% of blog content saw less than 50 visits per years, and Google Analytics showed that even high-ranking pages that saw frequent traffic were not driving revenue.
So there were three issues with informational pages. They needed to be:
Linked together in a clear, navigable structure
Optimised to drive organic traffic
Redesigned to convert traffic to customers
Parts 1 & 3 focussed on improving user experience and user flow, whereas part 2 prioritises SEO best-practices.
Structured content with a purpose – the user journey
Company-X's new website development provided the opportunity to reorganise how visitors and search engines would found their informational content through links. Here's how the content would be structured:

This structure is designed to make finding relevant information easier for visitors, and therefore, search engines. This cyclical content structure means that users have access to information wherever they enter the site.
For example, a visitor that lands on a product display page might still be in the broader research phase of their journey. If a visitor is not ready to purchase then the chance of them bouncing from a product page is high.
Linking product and category pages, or "money pages", with the relevant informational content offered visitors the opportunity to continue their research on Company-X's site.
Providing this opportunity (and great content) meant that visitors will remember Company-X's brand when they reach the conversion stage of their journey.
Want to know more about how structure can benefit your website? Get in touch.
Optimising content to generate traffic
The goal of Search Engine Optimisation (SEO) is to rank your webpages highly in the search engine results pages (SERPs). There are a vast array of factors that affect search rankings from page speed to structured data.
It's a well-known fact that the top results in search engine results pages get an exponentially large portion of all organic traffic. Check out this article on organic clickthrough rate by Backlinko.
The basic premise of organic content marketing is to rank content high on the SERPs to draw this traffic to your website. Tim Soulo from Ahrefs says it best:
"Create articles that bring consistent targeted traffic that doesn't fade"

Tim Soulo, Ahrefs
It can't be said any simpler than that.
If you want to learn more about effective organic content marketing, then I highly recommend Ahrefs' incredible Blogging for Business course. It's free!
Company-X's page structure was linked, so it was quickly findable, and content pages were optimised to generate consistent targeted organic traffic. But what about Part 3? Well, Tim Soulo actually said this:
"Create articles that bring consistent targeted traffic that doesn't fade then convert that traffic into leads & sales"

Tim Soulo, Ahrefs
That second part is pretty important, and it's what Company-X had been missing out. Getting traffic to your content is just the start.
Designing content that converts visitors to customers
Company-X's informational page content was redesigned to offer visitors the chance to:
Browse further related informational content
Shop related products
Browse related product categories
Sign up to the newsletter
Contact Company-X (if relevant)
Option 1 isn't technically a conversion. Still, the cyclical structure of informational and transactional pages means a visitor that chooses to browse related information will be faced with the same five choices, and so on. Either visitors will leave the loop (exit the website), or they will convert into a lead or a sale.
But how did that actually look on a page?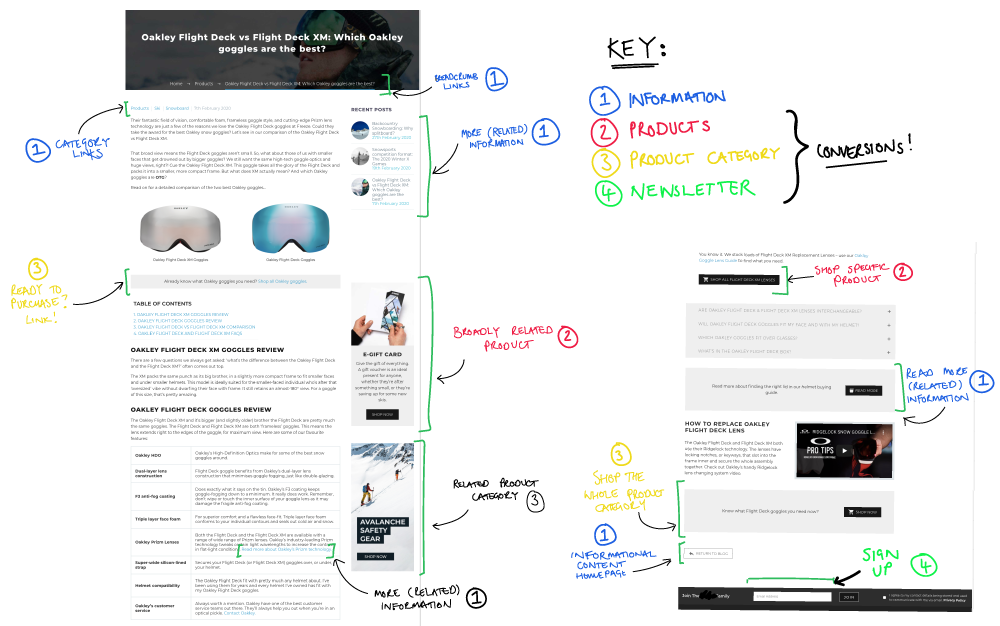 And that's how organic content marketing works. Whether you sell products or services, the system remains the same.
Does your website get high traffic but low conversion rates? Get in touch and we'll figure out why.